Kailleaugh Andersson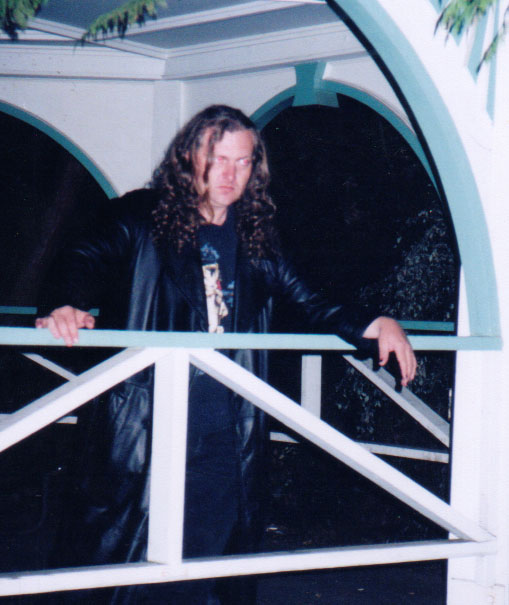 Kailleaugh Andersson was born December 21st, 1972, the son of a successful writer of abstract horror fiction and screenplays (some of which you may be
familiar with). He presently lives in Grants Pass, Oregon and is engaged to Dark Erotica writer Alex Severin. In 1997, he co-founded Gothic Press: Publishers Of The Abstract after bouts with self publishing, of which he is the Head Editor. His education in the field includes a B.A. in Journalism.
He is the author of the following chapbooks: "Cases Of Lycanthropy", "Suspended At Dusk" and "Skeletal Remains & Other Abstracts" all published
by Gothic Press. In 1996, his collection "Dark Destinies" was translated into Russian and released to Russian markets by Exile Press. "Dark Destinies" was subsequently banned in Lithuania and Latvia before it even hit the bookshelves, resulting in nearly all of the 10,000 copies ordered destroyed. His work has also appeared in DeathGrip, Short,Scary Tales, House Of Pain, Lilith's Lair, Ilona's Place Vampyres, Goth-a-Billy, Dark Verse,
Dark Funeral and other e-zines. He has addittionaly had work published in print publications such as NW Underground, BloodeBathe, Legacy Of Horror,
Raven and other print zines.
Under a psuedonym he has also written seven other books and had over 300
non fiction research articles translated and published into 9 languages, including Russian, Turkish, Chinese, German, Dutch and others.
RELEASES:
"Suspended At Dusk" (1999)
"Skeletal Remains" (1999)
WEBSITES:
Kailleaugh Andersson's Gothica